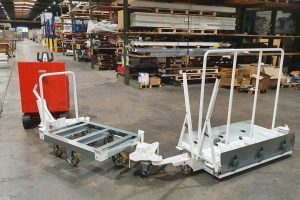 ManuLine is expert in the design and manufacturing of tugger trains to optimise processes and line-side supply. Regardless of your constraints, our design office will analyse your specifications to offer you a technical solution that matches your requirements. One such example is the tugger train recently shipped to a leading international electronic component supplier that comprises both Plateau Storci and C-Storoll models.
Mixed model tugger train
 First issue to consider: Our client wishes to transport plastic containers on its existing trolleys measuring 400 x 600 mm. However, this type of trolley has "basic" wheels that are not designed to run in trains. Plateau Storci is the ideal solution for the job. This receiving cart model (also called a sulky or mother cart), designed with lean manufacturing in mind, can be used to transport 400 x 600 mm trolleys with no floor contact throughout the entire run. Additionally, it has side ramps to facilitate trolley insertion and removal either side of the tugger train (right or left side) in any order. To fully meet our client's needs, specific adaptations were made to the Plateau Storci model by our design office, including the addition of separators and slatted sides.
Second issue to consider: On its tugger train, our client also wants to transport a pallet measuring 1200 x 800 mm placed directly on a trolley. This trolley needs to be compatible with use of their lifting system (stacker). Loading and unloading will always be done on the left side of the circuit. The best possible intralogistics solution tailored to this need is C-Storoll. This tugger train model enables trolley insertion and removal on one side of the train (right or left side) in any order. In addition, our design office will adapt the wheel spacing to enable use of their stacker.
Depending on your specific needs, the tugger train can be composed of other supply models. For example, Crossing Storoll is the utmost in versatility. This mother cart can accommodate daughter carts of different sizes (e.g. 600 x 400 mm, 800 x 600 mm, 1200 x 800 mm or 1000 x 1200 mm) ranging from 100 to 900 kg in weight. These trolleys can be inserted and removed either side of the train in any order and extremely quickly, yielding a remarkable gain in productivity.
Tugger train advantages
Fully custom-built tugger train composed of different supply models to fully meet our client's specifications
Reuse of existing trolleys
Technical solution compatible with use of an existing lifting system
Ease of use and user comfort
Why you should trust ManuLine
ManuLine's custom-built intralogistics solutions meet all internal logistics flow project requirements. Do you also need a solution for moving loads/containers on your industrial site? Our design office would be happy to review your specs and work with you to develop the tugger train best tailored to your needs.
Custom-built solutions for internal load transport
Demander un devis
#New