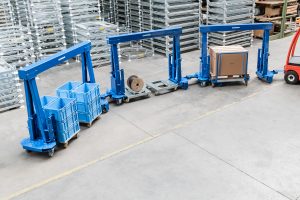 This single-track trainis designed for safe, rapid and optimal line-side supply.
Thanks to its gantry, this solution can be used to remove and insert trolleys quickly, easily and in any order to improve productivity.
This system can hold several different trolley sizes at the same time (100 to 900 kg).
In one train journey, the operator can swap an empty container for a full one (or vice versa) regardless of the size (400 x 600 mm, 600 x 800 mm, 800 x 1200 mm, or even 1200 x 1000 mm for example).
Advantages:
Ease of use and user comfort
Fewer (or no) forklifts on the production line to improve operator safety
Operation performed quickly
100% mechanical operation: reduced maintenance
Single-track train: ideal for narrow aisles
Left and/or right loading and unloading
The ManuLine team offers custom-built solutions corresponding to your requirements.
Demander un devis