Ergonomy, safety & productivity

To meet the various standards for logistics and industrial warehouses, both indoors and out, ManuLine offers visual management solutions, made up of tape, pictograms & symbols.
These marking tools are used to manage traffic in warehouses and guarantee pedestrian and vehicle safety. By using these tools, the message conveyed is understood and performance is optimised.
They are ready to use and quick and easy to apply. They are wear-resistant thanks to their adherence to the ground.
Several colours are available according to the model and requirements.
The ManuLine team will answer all your questions and offer a tailor-made solution.
Ask for a quote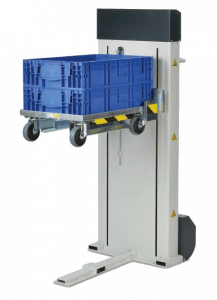 Electric handling tool to effortlessly raise loads to the required working height.  This tool can raise a maximum load of 500 kg depending on the model and is quick and easy to position directly at the workstation.
Operators can be required to perform difficult and repetitive tasks which can take their toll physically – heavy loads to handle, tiredness at the end of the day, distances covered, posture.These factors can lead to musculoskeletal disorders (MSDs), one of the leading causes of occupational diseases in industrial environments.
This lifting device improves operator workstation ergonomics because it is easy to use and can be adjusted instantly. Pallets, trolleys, plastic boxes and other containers can be raised according to requirements.
Some models feature castor wheels so they can be moved from one workstation to another.
Various different models are available. Contact the ManuLine to choose the one that meets your specifications.
Ask for a quote