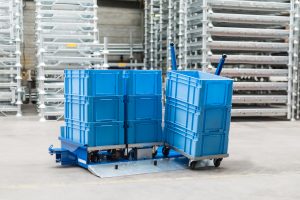 Tugger train with side loading ramps, designed for optimal line-side supply.
This system enables effortless container loading and unloading on both sides of the aisle. Thanks to a simple lever action, loads can be pushed up the ramp and locked in place of the flatbed.
Ideal for transporting plastic boxes, waste bins and another other medium-load containers (maximum weight 300 kg per wagon).
The most common cart sizes are 400 x 600 mm and 800 x 600 mm.
Advantages:
Ease of use and user comfort
Fewer (or no) forklifts on the production line to improve operator safety
Operation performed quickly
100% mechanical operation: reduced maintenance
 Left and/or right loading and unloading
The ManuLine team will meet all your custom-built cart requests.
Demander un devis