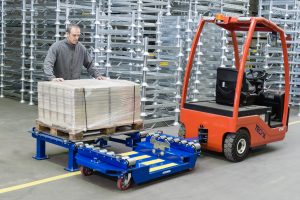 The system is used to transport pallets weighing up to 1.2 tons. Pallets are pushed manually with the help of rollers (user-friendly solution).
Perfect for transporting pallets measuring 1200 x 800 or 1200 x 1000mm, and other types of containers such as Gitterboxes or pallet boxes.
Advantages:
Ease of use and user comfort
Fewer (or no) forklifts on the production line to improve operator safety
Operation performed quickly
Single-track train: ideal for narrow aisles
The ManuLine team offers custom-built solutions corresponding to your requirements.
Demander un devis