Specific and custom-built trailers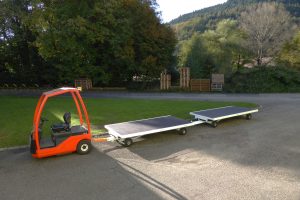 The trailers are designed to maximise product, operator and industrial environment safety
We offer solutions to meet your specifications, such as tarpaulins, crates and wheels to suit the ground surface.
Our heavy load transport solutions featurea simple deck with steering axle, or a structure (shelves, trolley holders, sides, etc.) to meet your specifications, and they are designed for intensive use.
Advantages:
Custom-built
Fewer (or no) forklifts on the production line to improve operator safety
Operation performed quickly
The ManuLine team will answer all your questions and find the best, custom-built solution for your project.
Demander un devis