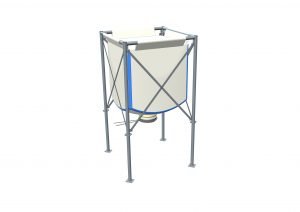 Ideal for storing grain, cattle food or seed, this product is mainly intended for agricultural use. Our flexible storage silos are available in 4 or 7m³ versions with different feeder systems. Our standard structure is available with full opening (bucket filling for example).
Our galvanised steel structures feature a flexible silo. As the silo is made from breathable fabric, it must be protected from adverse weather conditions. It ensures good air flow and therefore prevents condensation in the bag, protecting it from any damage.
The fabric is UV-resistant.
The screw-feed system is used to keep the bag filler neck open (400 mm-diameter steel cylindrical inlet). Please note that ManuLine does not supply the feed system.
The pneumatic feed system is a containment solution. Featuring a steel tube with a long radius elbow and a 100 mm-diameter Guillemin coupling accessible from the ground, it is easy to install and use.
Quick and easy assembly and disassembly. The scissor valve is used to control flow rate during partial emptying.
The ManuLine team will meet your specific requests.
Demander un devis