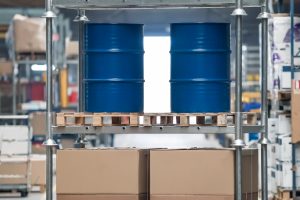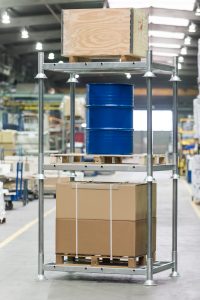 Solution for optimising storage areas. Ideal for storing pallets, containers or bulk parts without encumbering an area.
This versatile shelf can be used to set up a temporary or permanent storage area that can be adapted according to requirements. Thanks to its design, it is easy to assemble and dismantle (no tools or bolts required).
It can store up to 2 tons per rack. Maximum stacking (or storage levels) will be defined by our ManuLine experts according to height and weight restrictions.
Standard storage racks are available in two sizes: Single (centre-to-centre distance 1370x1005mm) for a Euro pallet or Double (centre-to-centre distance 1850x1000mm) for two Euro pallets for example.
We offer real solutions to suit the storage area and weight. Feel free to get in touch to find the product that meets your needs. Our design office develops solutions on a case by case basis. For example, it can fit fork guides (fork slots) to racks to optimise handling and your working environment.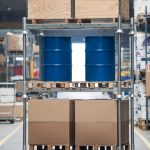 Contact ManuLine to develop a custom-built solution to meet your specifications.
Demander un devis