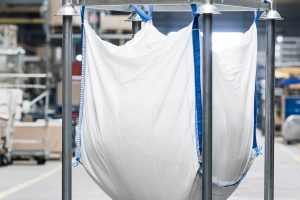 A versatile holder that optimises flexible container (Big Bag, FIBCs) storage and handling.
Easy to stack and unstack thanks to the cupped feet stacking system (no tools or bolts needed). Optimises BIG BAG storage areas thanks to stacking feature (1+3 stacking possible according to tube length and BIG BAG weight).
It features a frame, four tubes and a base. Each structure can hold up to 2 tons.
Filling is optimised when flexible containers are in holders (there are no pockets as the fabric is stretched unlike when big bags are stored on pallets) and there is no risk of tipping during handling which guarantees operator safety.
Our standard holders are available in 950 mm or 1200 mm centre-to-centre distances according to Big Bag sizes, but we also offer specific holders to fit other containers.
Thanks to its renowned expertise in handling, ManuLine offers custom-built solutions to meet your specifications.
The 1200 mm centre-to-centre distanceholders can be fitted with fork slots in the frame and base (according to handling equipment fork length).
The Holderwith wheels is perfect for moving Big Bags by hand safely and easily (non-stackable solution)
The Holder with duckboard is designed to store filtering Big Bags. It is ideal for collecting liquid (in the event of mud or industrial wastewater, for example).
We can also offer a safety chair for maximum handler safety when opening flexible container discharge chutes.
To reduce the overall height of the Big Bag storage holders and to avoid tearing the bag, ManuLine offers sheet or latticed steel base plates according to requirements and bag type.
Product sheet & specifications for Big Bag structure
The ManuLine team offers custom-built solutions corresponding to your requirements.
Demander un devis