Low profile trolley with loading ramps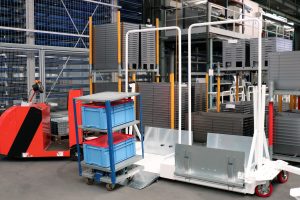 ManuLine has 20 years' experience in intralogistics solutions and specialises in designing, developing and marketing custom-built tugger trains. Also known as milk-run or small trains, these single-track train systems optimise the transport of components from the warehouse or storage areas to the workstation.
Our teams recently supplied an automotive industry client with a train featuring low profile wagons with loading ramps. Each wagon comprises two elements: a receiving cart, called a sulky or mother cart, and trolleys, called dollies or daughter carts, making up the tugger train. These low profile receiving carts were custom-built by our design office to fully meet our client's specifications.
As regards its technical features, the low profile tugger cart system is designed for indoor use.
Each mother cart can transport two daughter carts, or dollies, of a size of 800 x 800 mm and a height of 1900 mm. The base height is 95 mm. The maximum admissible weight per wagon is 250 kg (client specifications).
Loading and unloading on both sides of the aisle is effortless thanks to the loading ramps located either side of the cart.
Ergonomic pedal and handle action locks and unlocks the receiving cart quickly and easily.
End walls have also been fitted to prevent tipping when accelerating or braking.
The train is designed to operate at 6-8 kph in a straight line and 3-4 kph on turns.
Lastly, a specific coupling hook at the rear of the second sulky was specially designed to tow 1 to 2 of the client's existing 6-wheel trolleys measuring 1200 x 1200 mm.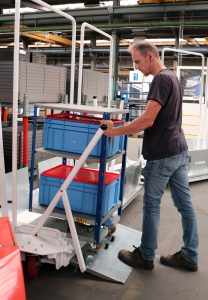 Advantages:
Ease of use and user comfort
Fewer (or no) forklifts on the production line to improve operator safety
Operation performed quickly
100% mechanical operation: reduced maintenance
Left and/or right loading and unloading
A tugger system for optimal line-side supply of your components, a custom-built solution tailored to your needs. Feel free to contact us for further information.
#New