Filling station for Big Bags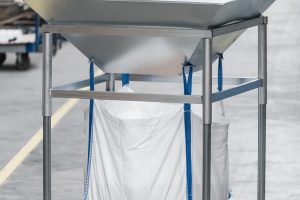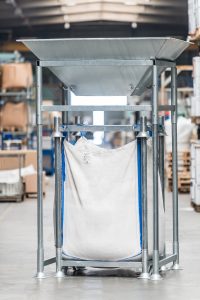 This structure is designed to fill Big Bags easily and safely (according to the feeder system) with sand, gravel, grain, plastic granules, etc.
This is a sturdy and stackable station (quick and easy stacking and unstacking operations).
There are two possible configurations: the flexible container is placed on a pallet underneath the hopper, or the Big Bag suspended in a holder is placed under the hopper.
The station features a loading hopper with an opening greater than 1600 x 1600 mm, a height-adjustable hopper frame, four tubes and an open lower base plate.
ManuLine offers specific solutions to optimise transfer of materials.
A filling chute can be fitted with wheels to make it easier to move the station.
The hopper can be fitted with a value to control flow during Big Bag filling. A specific hopper is available for large particle size products.
The station is available in stainless steel for food product use.
The ManuLine team is available to offer you the perfect solution for your requirements.
Demander un devis