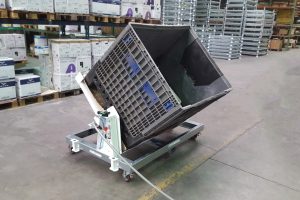 The Fixed-base trolley features a sprung base to keep the load at the required working height. The base is lowered automatically when the container is loaded and goes back up as identical parts are used. It is suitable for several types of pallets and boxes (600×400 mm, 600×800 mm, 1200×800 mm and 1200×100 mm, and other sizes on request). The steel structure is designed for handling and transporting loads weighing up to 300 kg.
The Tilting-base trolley features a base that tilts up to 35° to make picking from containers easier. It can be used manually or in a train, as it is compatible with our tugger train solutions for optimal line-side supply.
The Rotating-base trolley features a base that can pivot up to 360° to make picking from containers easier.
Our trolleys are suitable for pallets, mesh box pallets (Gitterboxes and other 1200×800 and 1200x1000mm-sized containers). The trolley can withstand loads of up to 900 kg and is compatible with our train solutions. Indexing is possible at 90° or 180° (or another value on request).
Advantages:
Easier content picking
Easy to use
Fewer (or no) forklifts on the production line to improve operator safety
Operation performed quickly
ManuLine offers solutions tailored to your specifications. Feel free to contact us.
Demander un devis