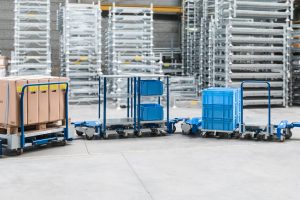 Tugger train solution for rapid and optimal line-side supply. It enables containers of various sizes to be transported in the same train at the same time.
This single-track train is used to transport 100 to 300-kg loads (400 x 600 mm plastic or cardboard boxes, 800 x 1200 mm Euro pallets, or items with specific dimensions).  It is perfect for narrow aisles.
Trolleys can be inserted on either side of the cart but must be removed from the side they were inserted.
Advantages:
Ease of use and user comfort
Fewer (or no) forklifts on the production lineto improve operator safety
Operation performed quickly
100% mechanical operation: reduced maintenance
Single-track train: ideal for narrow aisles
The ManuLine team offers custom-built solutions to suit your environment.
Demander un devis