Custom-built wheel head trolley (automotive industry)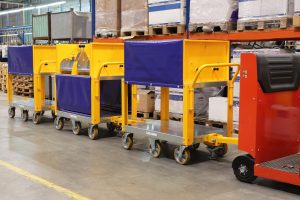 ManuLine, a French company that has designed and manufactured tugger trains to optimise line-side supply for over 20 years, has recently supplied an automotive industry client with a train featuring trolleys equipped with tilting wheel heads. A custom-built solution tailored to the company's production tool.
These completely custom-built trolleys were developed by our design office to fully meet our client's specifications. These transport trolleys are used to deliver and collect grinding wheels on their production site and enable user-friendly provisioning at the workstation.
Technical features
Each trolley measures 1000 x 800 mm and can carry a payload of up to 250 kg,
They feature a galvanised steel structure and a base raised to an ergonomic height of 800 mm,
Protection for the grinding wheels (against dust, oil, etc.), made up of side panels and foldable half-tarps on each side,
A handle to move each trolley separately,
Four wheel heads that can be tilted 90° with position indexing were fitted to each trolley to meet operator requirements. A rotation locking mechanism can be used to secure the grinding wheels at any time for transport,
Each trolley features 6 polyurethane ball bearing wheels for easy trolley handling when moved by hand,
A brake pad holds each trolley in place, when at the workstation or warehouse for example,
A label holder was added to identify the trolleys with new or used grinding wheels,
A specific RAL colour (other than white) was applied at the Client's request.
#New