Custom-built emptying station with industrial slide gate valve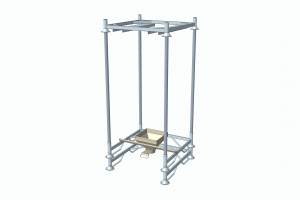 ManuLine recently supplied a custom-built emptying station. Our customer required a solution for emptying a large particle size product from a Big Bag to a container with a smaller opening diameter. The specific aim of the request was to ensure the safe transfer of volume without any spillage.
We provided an emptying station equipped with an industrial slide gate valve, also known as a knife gate valve. This type of valve ensures the transfer of large particle size materials (>6mm). The system channels the flow during product emptying.
It is recommended for complete Big Bag emptying, but the operator can roughly regulate the transfer during the material flow process. The transfer can also be stopped during emptying. It should be noted that the product must be able to withstand crushing or cutting during valve opening and closing. The outlet diameter is 125mm for our customer, but we can offer other versions for this valve.
ManuLine can offer a multitude of solutions tailored to both the environment and facilities of its customers. The emptying station is built without underframe tubes to facilitate adaptation to the customer's existing facilities. The structure features fork slots to ease and secure operator handling.
Once again ManuLine delivers a completely custom-built solution guaranteed to meet customer expectations.
#New