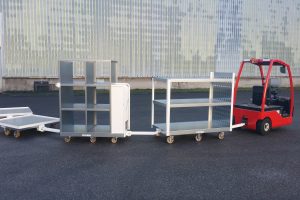 The 4-6 wheel trolleys are ideal for wide aisles and enable commissioning or optimal picking.
They can be used manually (for loads weighing up to 300 kg) driven by four castor wheels. When used in tugger trains, they can carry loads weighing up to 900 kg. The trolleys feature six wheels (two drive and four castor).
They can be used manually with six wheels for loads weighing between 300 to 900 kg.
Twin steering axle trolleys are recommended for transporting loads in narrow aisles. They are built for single-track travel. This system is perfect for transporting loads from point A to point B without any swapping at the workstation. The loading/unloading points must feature handling equipment. The trolley can carry loads weighing up to 1.2 t.
Add-on trolleys are ideal for transporting 600×400-mm plastic and cardboard boxes. They are suitable for truck transport and optimise storage areas. The reversibility option is recommended by our experts for quick truck loading and unloading.  These add-on trolleys can be used to build a 4 to 20 trolley single-track train and can carry up to 100 kg
Advantages:
Single-track travel: ideal for narrow aisles (according to the model)
Fewer (or no) forklifts on the production line to improve operator safety
Operation performed quickly
100% mechanical operation: reduced maintenance
Contact the ManuLine team to create a solution that meets your needs.
Demander un devis