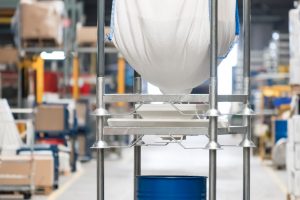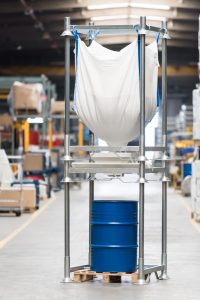 ManuLine develops safe solutions for emptying flexible containers (Big Bags, FIBCs) quickly and without any spillage. These solutions are suitable for all sectors of industry and for frequent or occasional use.
The emptying station is made up of a top part holding the Big Bag and a bottom part featuring a discharge system and the product collection container.
Our stations are fully customisable (size, valve model, accessories, etc.).
Holder stacking and unstacking is quick, safe and easy thanks to the cupped feet stacking system.
Depending on usage, ManuLine offers several solutions to meet specifications:
Emptying station with hopper and sleeve(s): used to fit the hopper with one or more sleeves for emptying by suction. This emptying solution enables quick and easy product transfer.
Please note that ManuLine does not supply the suction system.
Emptying station with check valve or butterfly valve: makes it easier to empty small particle size products (<6 mm), such as powdery materials. Enables basic flow control during emptying.
Emptying station with diaphragm valve: used to empty your flexible containers by controlling the flow easily and accurately. The Big Bag can be replaced during emptying. The flexible container can therefore be emptied several times.
This solution is highly recommended for the agri-food sector. As the Big Bag contents do not come into contact with the station, no contamination is possible.
The Emptying station with seed valve is perfect for the agricultural sector. This solution is designed to direct the Big Bag flow into a seed drill thanks to its telescopic tube.
Emptying station withindustrial knife gate valve: it is designed for large particle size products (>6 mm), such as plastic granules, rubble, etc.
The product must be able to withstand crushing or cutting during valve opening and closing. This system is not designed to accurately control flow during emptying.
It is recommended for total emptying of the Big Bag.
We can supply a stainless steel version suitable for food use.
Contact the ManuLine team for more information.
Demander un devis