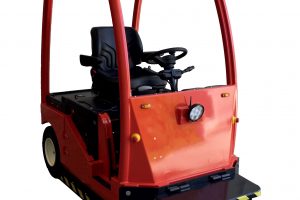 Our automated tractor solutions can transport loads of up to 25 tons indoors and out depending on the model.
When combined with a handling cart or trolley train, this solution can be used to transport containers automatically.
The cart is guided by a magnetic strip, which is either stuck to the floor or buried, or it is guided optically by following a strip stuck to (or painted on) the ground.
Two drive modes are available:
Automated: with no driver and a speed of 1 m/s max.
Semi-automated: with a driver. This mode can be used to switch from manual drive mode (travelling at a normal speed of up to 10 km/h depending on the circuit type) to automated mode (travelling at low speed with precision docking for loading and unloading).
Advantages:
Complete Tractor + Train solution (including design, installation and programming)
Optimised logistics flows and improved productivity
Maximum safety for the products to be transported, the operators and the industrial environment
The ManuLine team offers custom-built tractors to best meet your needs.
Demander un devis